SCHOOL TEAM BUILDING
Positive relationships among your teachers and staff are invaluable to accomplishing the educational goals for students who attend your school. We offer a variety of team development services and team development activities that will help create a positive school culture for teachers and staff. Our team building activities are designed to foster healthy, collaborative relationships. Team building exercises promote trust, communication, and increase collaboration enabling your teachers to take their success to the next level.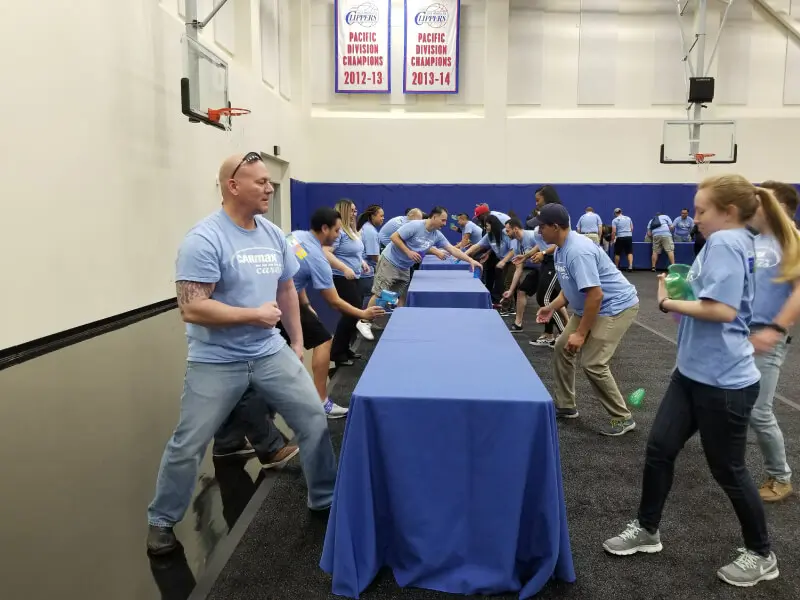 ASSOCIATION TEAM BUILDING
In order to achieve your association's goals, your team needs to be collaborative, communicate effectively, and work together successfully in an environment that is enjoyable and relatively stress-free. Effective team building can help create that kind of positive environment and instill those team traits. Our team building activities and team building exercises are designed to bring your team members closer together, build deeper relationships based on trust and respect, while fostering their professional development. We offer a complete array of team development services that we can custom tailor to your organization's specific needs and goals.
FAQs
Often, the idea of team building is a new concept for an organization. It's natural to have questions about the process and what to expect
How do you know your team building exercises will benefit our organization?
We explore your situation and specific needs/goals with you so that we can design team building activities and exercises specifically geared to develop the skills that will help your team achieve your goals more effectively.
How do your games and exercises help my team become more effective?
To succeed in our games and exercises, your team members must communicate clearly, work together effectively, and learn to trust one another. These are skills that will make them more successful in their work environment.
I always thought that 'team building' programs were just exercises to make people feel good. How are your programs different?
Our team building activities and exercises promote effective communication, creative problem solving, trust, and appreciation for individual differences and strengths. While accomplishing the goals of our exercises is fun, we are building the skills and perspectives into your team that will encourage team bonding and make them more effective in their jobs.
The Big Picture
Knowing and appreciating the various personality styles found in every work environment. Simply by understanding how each team member can contribute to the big picture in his or her own unique way, our teams get stronger and better every day.
Check out these other Options
Corporate/Large Team Building
The key to large corporate team building success is utilizing team building activities and workshops that are specifically designed for large companies and organizations. They are highly enjoyable, engaging, and successful in building strong and effective team skills like trust, collaboration, communication, as well as greater team bonding.
Small/Office Team Building
We offer creative, fun, and engaging team building activities and games designed for small groups. Our team building exercises and workshops instill and advance high-level team capabilities and successful skills like effective communication and collaboration, creative thinking, problem solving, leadership, active listening, and trust.
Helpful Team Building Articles
"Culture" is all the knowledge, customs, and values shared by a group or society. It suggests cohesion and oneness."Corporate culture" also implies accepted customs and traditions and collective values.  Both are based on how we are the same; what we have...