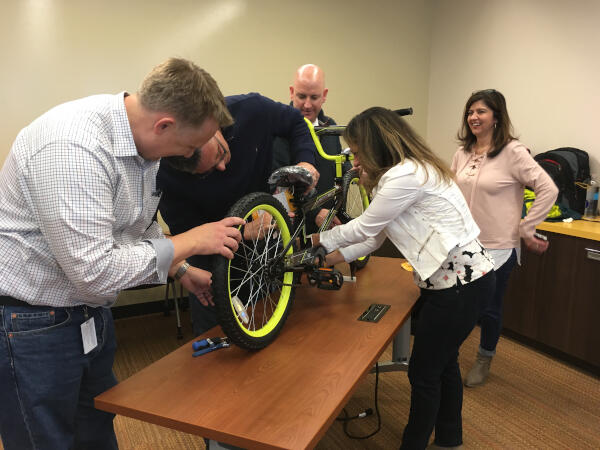 CHICAGO, IL, May 21, 2018– Magnovo Training Group, a professional development and team building company located in the heart of Indianapolis, is privileged to work with corporations and organizations throughout the United States. Their charity team building series is a unique way to pair non-profit organizations in need of support with companies looking to benefit their communities.
Recently, a Bike-a-Thon Bicycle Team Building was planned in Chicago, IL where Salesforce leaders and their clients participated in various team building exercises. When they were finished, they had built four bikes for the Union League Boys & Girls Club. According to Anastasia Hernandez, assistant director of Club One, the organization was thrilled to be a part of the event. "Our staff said it was well organized and of course our kids loved it!"
At the conclusion of the event, the participants presented the bikes to the youth, helped them adjust their seat height and see first-hand the difference they were making. According to Magnovo Training Group's facilitator Erin Worman, there were tears. "I was able to give good news about the donation of the bikes and then a brief speech was delivered explaining the immense impact these bikes have on the children in their club."
Helping others can bond co-workers together as they team up to help someone else. When you see executives working together with their employees in our charity bike build knowing it will go to a deserving child – it's pretty impactful! Bicycle team building is the hottest team building event right now, and for a very good reason!
Magnovo Training Group focuses on providing valuable training in a fun, interactive environment.
About Magnovo Training Group
Magnovo Training Group is a professional development company dedicated to creating meeting experiences that matter with an extensive range of customized workshops, charity team building, and performance consulting throughout the Indianapolis region, as well as across the U.S., Canada, and Europe. Offering workshops that focus on leadership, public speaking, and team building activities, the company features an energized group of soft-skills experts. Magnovo Training Group strives to inspire positive change for clients. Every workshop is tailored to the clients' needs in order to create impactful, experience-based events that educate, inspire leaders, and develop teams. The company emphasizes philanthropy: each of its team building workshops contribute to the community. For more information, please visit www.magnovo.com.
# # #