BIKES FOR KIDS: CHARITY BICYCLE TEAM BUILDING
It's far from new, but bicycle team building is still one of the hottest charity team building events, and with good reason! When you see executives working together with their employees to build bikes knowing they will go to a deserving child – assembling bikes for kids charity…is pretty impactful!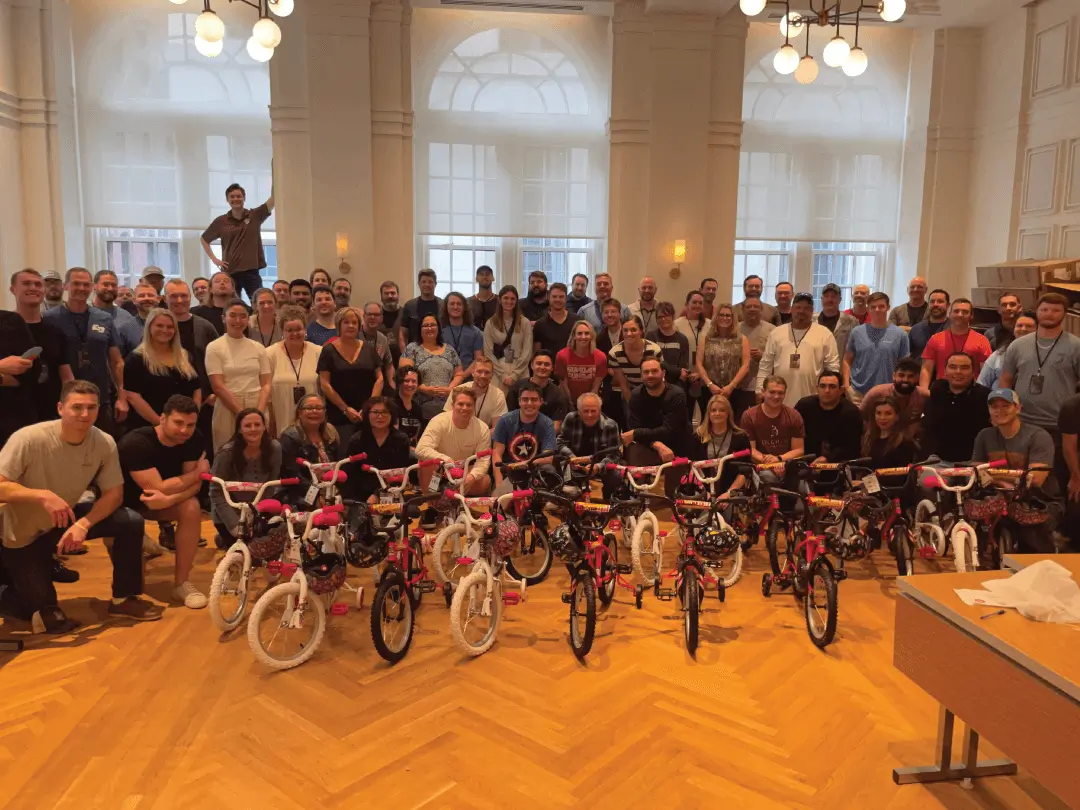 A question we often get from our more mechanically-inclined clients – why does it take two hours to build bicycles?
That's a great question! I know that after helping our clients build thousands of bikes, our facilitators could probably assemble one in five minutes while being blindfolded! IF, and only if, they had the tools and the parts!
The key behind the bicycle team building workshop isn't just about having fun and building some bikes, it's about learning to work together both in individual teams AND as a part of the much larger group.
Building Strong Teams: Bridging Differences and Fostering Collaboration through Bike Building Events
We all bring our own personality style, ideas, and mindsets with us when we join a new team or a new business. Some of us work together like peas and carrots, while some of just don't seem to mix together very well at all, like oil and water!
Whether we come from different business units, different organizations, or even different continents, our bike building team events help to provide insight into workplace interactions through light-hearted, fun, educational activities.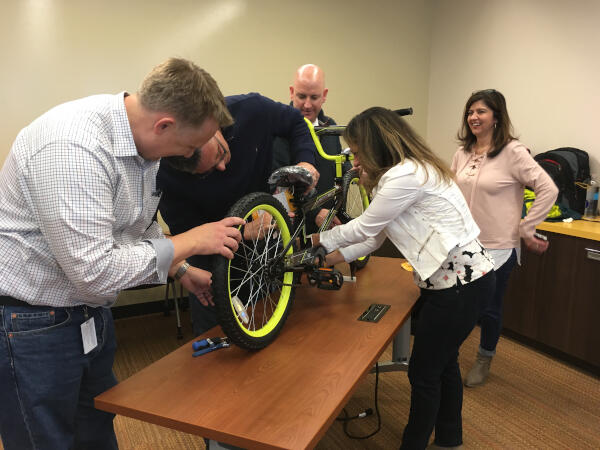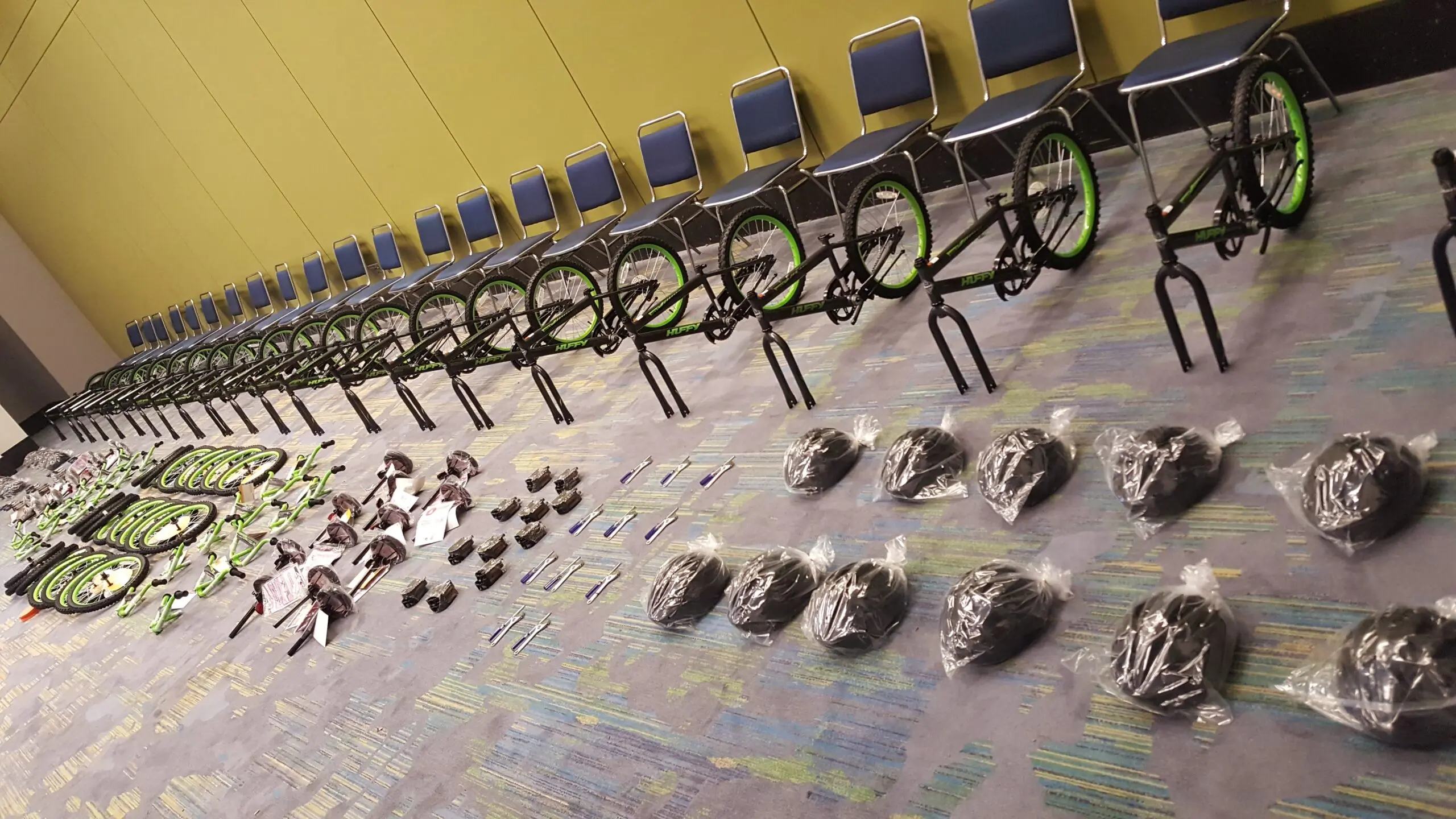 Bikes for kids charity and for enhanced team performance – or pure enjoyment.
Incorporate all these aspects while each team earns parts and tools to build brand new bikes for kids in the local community. We'll show your team how to navigate through problem-solving to get where they want to go.
The conclusion to the Bike-A-ThonTM is the realization that each component of a team is critical to its overall success and that we accomplish more when we resolve issues together.
Give us a call today or fill out a quote request and let us show you how we can make your event a success!
Understanding Team Dynamics in the Bike-A-Thon™ Workshop
A bikes for kids, Bike-A-Thon™, charity team building workshop will help your team learn to appreciate the different strengths that each team member brings to a group. This is what our workshops are all about – putting principles into action so your team at least has an awareness of behaviors they are experiencing and insights are connected back to the workplace.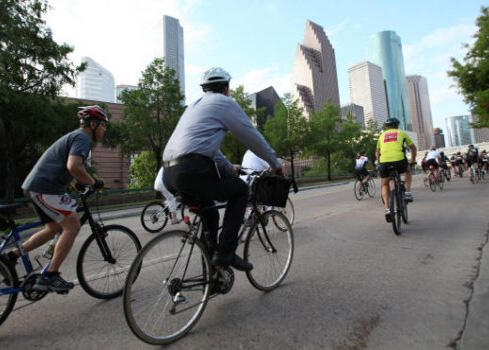 *This event is part of our Leveraging Literacy series, a group of team-building opportunities specifically designed to provide books for children in your community. Research has shown that literacy has a direct impact on a person's income level and health, which affects families for generations to come. The Leveraging Literacy series uses The Book Bundler to help you build a future for kids in your very own neighborhood.
Helpful Team Building Articles
"Culture" is all the knowledge, customs, and values shared by a group or society. It suggests cohesion and oneness."Corporate culture" also implies accepted customs and traditions and collective values.  Both are based on how we are the same; what we have...