Who's ready for team builder activities? This past March, Houston finally got its first protected bike lane.  Take a spin down Lamar Street from Discovery Green to the Sam Houston Park and you can't miss the bright green stripe designating the bikes-only part of the road.  It's a big win for the bicycle-friendly crowd, and a big move forward for making the city a better place to live.  Thank you to Mayor Annise Parker for moving forward on the Bicycle Master Plan.
Emulate Houston with Your Next Team Building Workshop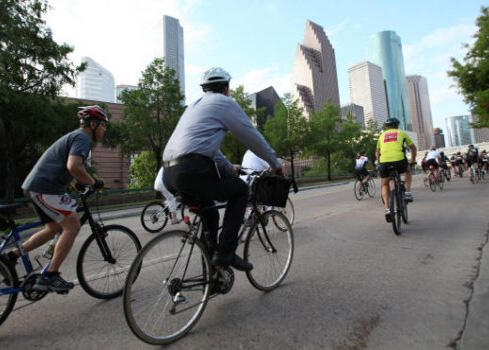 Houston is on its way to becoming a more bike-friendly city.  Did you know Houston earned a bronze-level award as a Bicycle Friendly Community in 2013, from the League of American Bicyclists?   Be part of this exciting page in our city's history and make your next corporate training event all about bicycles.  Magnovo's Bicycle Team Building Workshop combines authentic team builder activities based on sound research and designed to move your team forward, with charitable work for the surrounding community.
Teams work on important communication skills while collaborating to build bicycles for local deserving kids.  What better way to celebrate Houston's new bike path?  Combine healthy employee initiatives if you want- start a "bike to work day" and use the exciting momentum that's building around the Mayor's bike-friendly programs.
Our clients love the team builder activities that make up our Bicycle workshops because they're designed to be fun, even though the goal is to work on real skills for the work place.  What they really love, however, is the chance to give back to the community.  Bikes built in these workshops go to local clubs or whatever charity you like.  Very often, Magnovo will have the kids come in at the end and receive the bicycles.
And now that Houston has a bike lane, it's the first step towards a truly bicycle-friendly city.  Already we have the bike share plan launched in 2012,  and we've got our BP MS 150,  long-distance bicycle event which also gives to charity.  You won't be riding from Houston to Austin for any of our team builder activities, but  you sure can get into the bike-friendly spirit of things!
Call us today to get your team involved in a Bicycle Team Building Workshop with Magnovo – its team builder activities are designed to fit with what's happening in Houston today!