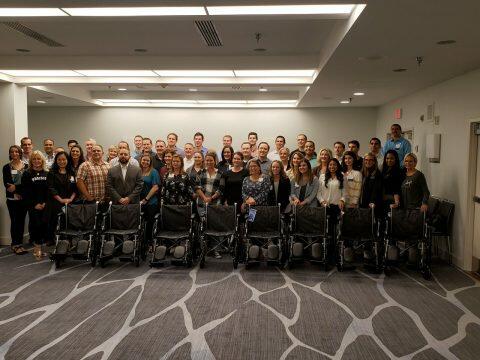 As 2018 has come to a close, Magnovo Training Group revealed their philanthropic efforts for the year. More than 2,500 items have been donated to those in need through the charity teambuilding workshops offered by Magnovo.
"One of the biggest missions at Magnovo Training Group is charity, and to give back to others," said Rob Jackson, company president. Magnovo offers a wide variety of workshop options and all are fun and educational, but also are philanthropic and give back to the community at the same time.
In 2018, Magnovo donated:
535 bikes;
981 rescue buddies;
61 individual care packages of various kinds;
65 hospital helpers;
235 for Mission Kids Care;
310 for Mission Military Care;
99 bags of food supplies; and
242 wheel chairs.
According to Jackson, the Magnovo team has worked hard over the past year and is very proud of their efforts. "I am so proud and appreciative of all of our staff and the difference Magnovo has made in so many lives this year," he said.
Magnovo partners with businesses and organizations of all sizes to provide various teambuilding workshops to their associates. The charity team building events not only develop a stronger and more cohesive team, but each one has a philanthropic twist — giving back through local charities and community organizations. These workshops were created with the goal of inspiring significant, positive change within organizations and communities.
About Magnovo Training Group
Magnovo Training Group is a professional development company dedicated to creating meeting experiences that matter with an extensive range of customized workshops, charity team building, and performance consulting throughout the Indianapolis region, as well as across the U.S., Canada, and Europe. Offering workshops that focus on leadership, public speaking, and team building activities, the company features an energized group of soft-skills experts. Magnovo Training Group strives to inspire positive change for clients. Every workshop is tailored to the clients' needs in order to create impactful, experience-based events that educate, inspire leaders, and develop teams. The company emphasizes philanthropy: each of its team building workshops contribute to the community. For more information, please visit https://www.magnovo.com.