Battle Creek Public Schools chose our Team Synergy Workshop for their team building event, and it turned out to be an excellent choice.
Since teachers are also leaders, we borrowed elements from our Campfire Leadership program and worked them into this customized workshop.
During the initial consultation with the group representative, the objective was clarified. We were to design a workshop that called upon the teachers to collaborate. The group's particular challenge was that none of them saw each other very often because they worked in different schools.
Team Synergy™ is perfectly suited for a group of teachers used to working very independently and running their own classrooms. By emphasizing collaboration over competition, this workshop was designed for teams just like this group of Battle Creek Public Schools teachers.

How it Went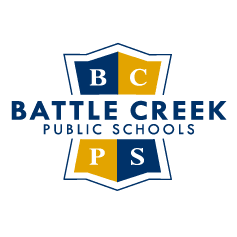 The morning began with a guest speaker. Workshop activities got rolling with a group discussion on what everyone learned from the speaker. Of course we really didn't need much ice-breaking activity since these were teachers and they had no problem speaking up!
We got to see communication patterns in action, setting the stage for the work that was to be done.
Next, our attention was turned toward the Campfire Leadership personality temperaments. Participants learned how they can work together much more easily if they understand personality types.
We broke the teams into groups and completed several activities that were designed to work on communication, problem solving, collaboration, and team work. Here's an example of some of the hands-on activities we like to blend in with the more cerebral parts of the day, like the guest speaker and the group discussion:
Teams were given the fun challenge of moving a marble to the other end of the gym only using the piece of half-pipe of PVC they were given. Of course the teams had to work together to be able to accomplish this task successfully. There was a lot of laughter as the groups realized that the task was much more difficult than they thought it would be. Working together as a team was the key to success. Eventually, all the teams eventually were successful…although not at the same pace!
Breaking Down Barriers Among Teachers
The event concluded with a lesson on how important it was to encourage and congratulate others on a job well done. They did an exercise that has each person share a personality strength that they observed with each team member and to support it with an example where they saw the team member exhibit the strength. There were a few tears shed in each group when they realized that people thought so highly of them based on their personality strengths. Yet another successful Michigan workshop!